Change & Transformation Online Community
The Change Space is an online educational platform for individuals, professionals, companies and educational organisations. Gain knowledge, learn new skills and promote personal and professional growth from our large collection of webinars, videos, audio programs, articles and other online resources by leading industry experts and personal development specialists.
---

Connecting
Bringing individuals leading change and those looking to make a change together.

Collaborating
A platform for individuals, businesses & coaches to share ideas and skills.

Coaching
Professional coaching and programs specifically designed for change.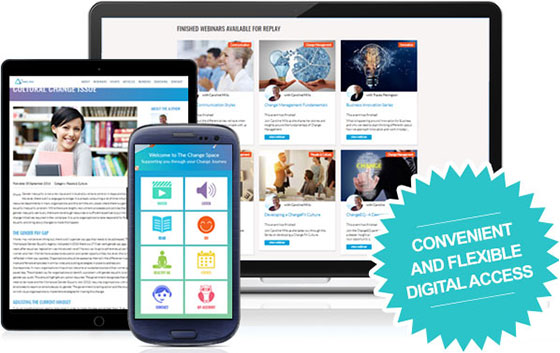 Tools & resources to facilitate change
Personally & Professionally
If you or your team are involved in the change management space, the tools in our members portal will provide valuable assistance across all areas of your life both personally and professionally. Our team of experts will share ways of leading successful change at a personal level all the way through to large-scale enterprise level change management.