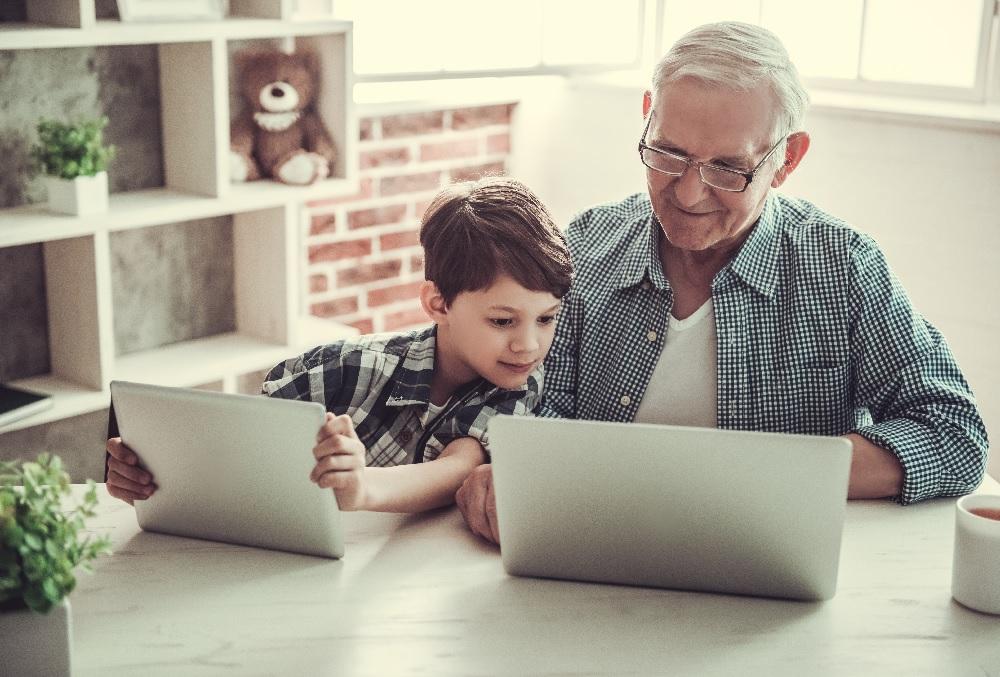 Post date:
19 September 2018
We live in a digital age.  A time when information is transferred quickly and freely through the various technologies at our disposal. And the breadth of knowledge being shared is immense and like no other era before now.  We need a quick answer to something; we 'Google' it.  We need directions; we use GPS. We want to read the news; we go online.  We want to organise an event; we use social media and receive instantaneous responses. We follow Instagram influencers for product recommendations or tips on how to live stylish and carefree lives.  We self-diagnose ailments and sicknesses before going to the doctor.  We watch YouTube for instructions on how to change a tyre, build an Ikea flatpack or D.I.Y for just about anything.  Even the way we learn has entered the digital ether.
What is digital learning?
Digital learning can be defined as learning that incorporates the use of technology – whether that be the learner engaging directly with technology or by an instructor making practical use of technology.  Digital learning should enhance the learning experience rather than replace traditional methods, and therefore, needs to be carefully considered when developing the overall learning strategy and desired outcomes. 
Advantages of Digital Learning
Personalised learning. Learners can access and choose courses or modules that suit their needs.  Whether they are interested in an area of study or want to gain specific qualifications to enable them to progress their careers.  Choosing their path and pace empowers learners to become highly engaged in their learning resulting in their progress accelerating. Within an organisation setting, employers can tailor learning for individual employees making it role specific.  Digital learning enables learners to access learning materials and content at a time that suits them.
Expanded learning opportunities.  Anyone with access to the Internet can now enrol in the many free online courses available.  Many online learning platforms are challenging the status quo of traditional learning pathways by offering 'bite-sized' learning, meaning small chunks of information are shared, and the learner can engage directly with the content. It is short, sharp and effective.
Relevant and regularly updated content. Creating and delivering learning experiences online enables educators to keep the content relevant and up-to-date. We experience global events in real-time due to the advances in technology.  Rather than waiting for the next edition textbook, we have real-time, current information at our fingertips.
Collaborative learning.  Digital learning drives collaborative and participatory learning.  We now share knowledge online by sharing posts over social media, 'tweeting' our opinions on a topic and participating in discussions on forums and chat rooms.  The digital age has also engendered a 'sharing economy' whereby we pool and share resources on the various sharing platforms available.  It is now possible to engage in content that was created by someone on the other side of the world.  We are sharing perspectives and finding our commonality – collaboration at its best.
Does digital learning have a place in our workplaces?
It takes a lot of planning to provide face to face training to employees.  Digital learning allows for organisations to reach a large number of employees with potentially less impact on day to day operations.  Additionally, learning can be tailored to individual roles, include scenario-based learning, and have a specific focus.  Content can be delivered as 'micro' or 'bite-sized' learning.  It is important to note that while there is a valuable place for digital learning this should not replace face to face.  Learning within the workplace is critical to the success of your employees and overall business success.  It needs to be strategic and digital learning provides the business with exciting opportunities.
Embracing digital learning will open a world of opportunities.