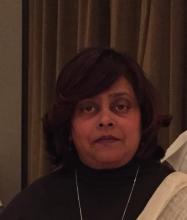 Melbourne, Australia
Personal Bio
Cherylyn Rakheja
Email: crsr1959@hotmail.com
Leader, Facilitator, Coach, Connector, Customer Service Specialist,
About Cherylyn
Cherylyn Rakheja brings a strategic focus, vision and mature judgement gained during a successful career, leading, guiding, creating and implementing Learning Solutions in the banking sector. Cherylyn brings passion and commitment to building employee capability that supports individuals achieving and being the best.
Cherylyn Rakheja has 19 years' experience that includes 11 years in the banking and finance industry and 8 years in School Education. During this time Cherylyn has held positions as Learning & Development Manager for the nab Contact Centre Melbourne, Senior Facilitator, People Leader, Coach, Consultant Delivery, Recruitment Officer, Head Of Pre-Primary School amongst other specialist roles and a volunteer teacher trainer for the Holmesglen Tafe.
Cherylyn applies her honest work ethic, intensive knowledge, in training and development, broad financial acumen, customer service, instructional design and facilitation skills with contact centre experience to identify opportunities and creatively resolve learning and development problems. Cherylyn is passionate about connecting people to achieve business outcomes.
Her ability to process information, critically think through and find solutions are some of the skills that stand out for Cherylyn. She has strong conceptual skills and can break down complex concepts in ways that others can understand and make it easy and simple to learn.  Her broad-based leadership, facilitation and working with a variety of teams position her to thrive in the emerging Capability and People team within an Enterprise.
The Leader & Coach
A people motivator, collaborator, connector and coach; Cherylyn encourages, leads her team in building capability to achieve extraordinary results through teamwork. From 2011-2012 Cherylyn led a team of facilitators and instructional Designers and a group of graduates appointed into Direct Consumer to achieve an engagement score of 83%.
The Facilitator and Instructional Designer
Areas of expertise are Career Development, Leadership (including leading change and coaching foundations), Technical and Role Based programs for Contact Centres, Increasing Sales focus with Making Goals to Choices.
The Customer Service Specialist
Cherylyn has excellent customer service skills and always thinks outside the square to meet and exceed customer and organisation outcomes. Cherylyn has experience in using various programs like Siebel, ebobs, SAP including Word, Excel, and PowerPoint.
The Achiever
Cherylyn has won many monthly and quarterly awards for her high achievement over her 11-year tenure with nab.
To list a few
Best Franchise Owner/People Leader
Be the Best High Achievement in Sales
Passionate & Involved
High Performance best business small business owner
The Credentials
Bachelor in Commerce specialised in Accounting Math & Statistics
Diploma in Early Childhood Education
Certificate in volunteer teacher training
Certificate in Project Management Essentials 
Certificate IV Training & Workplace Assessment
Accredited Enable Sales Coach
Accredited Inspire Sales Coach for Direct Consumer
Australian Financial Services License (AFSL) – Tier 2
Kaizen Fundamentals attended 1 day workshop
Feedback Quotes from Direct Reports, Stakeholders & People Leaders
"Team Speed to Competency Extremely Strong Results in this area. Well Done".
"Cherylyn has managed extremely well meeting the demands of the business as well as ensuring that our own people remain engaged and enabled".
"It is a shame that SUSU has been delayed this year. My observations of the team at this time of the year are one that is engaged with themselves and the business and the work they do. The proof of this rests in the high level of optimism and engagement regarding the significant structural changes that are coming through. The team on the most part seems at ease with it looking at this quite positively. Trends in Pulse checks on SUSU reflect the significant positive mood and engagement level of the team as the year has progressed. The allocation of a "4" is indicative of the stark turnaround this space in this area".
"I commend Cherylyn on the successful management and delivery of the project for up skill of People Leaders in Internet Banking reducing the number of called being transferred to the IB team by 50%".
"Cherylyn, you are always available and willing to have open and honest conversations.
You aim to keep the team connected in every way possible and you always are willing to listen to and take into consideration of other people's feelings before making decisions".
 "Cherylyn is great and very understanding People Leader who has facilitated an amazing experience at the CCC".
Always likes to be engaged about what we are doing
Always ensures we have adequate work to complete
Always considers the developmental aspects of tasks
Always considers our emotional well-being
"Thank You for your guidance and leadership Chez. You always had my back which is what made me want to work hard to make you proud".